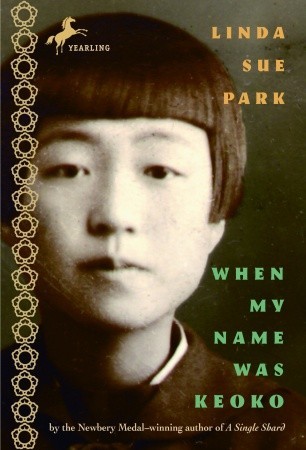 Title: WHEN MY NAME WAS KEOKO

Author: Linda Sue Park

First Edition: 2002
Pages:  199
Genre: YA fiction
"By order of the Emperor, all Koreans are to be graciously allowed to take Japanese names. … Let them! Let them arrest me! They will have my body but not my soul—my name is my soul!"
It is the year 1940.
Sun-hee, her brother Tae-yul, and their family live in Korea– a colony of Japan. Under Japanese occupation, food is scarce and Japanese rules are unbearable to accept.
Korean people must take Japanese names. Korean students must read and write in Japanese. Young Korean women are forced to work in Japanese factories or drafted as "Comfort women" for Japanese soldiers. Young Korean men are forced to join the Japanese army.
No one can fly the Korean flag.
No one can go against Japanese rules.
Korean traditions are to be forgotten; they are to be buried under Japanese oppression.
Sun-hee, Tae-yul and their family fight in silence against Japanese rules, while struggling to keep their Korean identity alive in a world that seems to bring only negative changes.
If you are, like me, enamored with historical fiction, you will absolutely adore this novel.
AND, if you are, like me, in love with Kanjj, you will tightly hug this book until each Kanji character is squeezed out of the page and poured into your heart. There is a whole chapter dedicated to kanji characters and their magical meanings!
We often know about WWII from Western culture books. In those books, not, much is said about other cultures and their struggles.
YES, before reading When my Name Was Keoko, I was aware of the history of Korea, but I was not aware of all its details. I was not aware of all the rules Korean people had to abide under Japanese oppression.
 " My name is my soul." 
I don't particularly like my name. It is difficult to pronounce and to understand.
Nonetheless, in my name there is my personal story.
There is the first boyfriend who whispers my name before kissing me, there is my dad who calls me a day before dying to say goodbye, there is my teacher who proudly yells my name before a poetry award.
YES, my name is my soul.
In my name there is my whole life encrypted in ink; shaped into tiny letters. In my name, there is my past, my present, and my future. There is my culture; my family and my emotions.
My name is my soul. AND, my name is mine.
Names are like memory boxes. When someone changes our name, the memory box loses its key.
Don't allow anyone to steal the key.