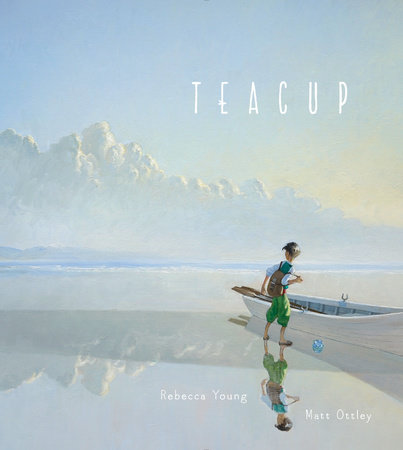 By Rebecca Young and Matt Ottley
Teacup narrates the journey of a single person AND the journey of all human beings. Sooner or later, each one of us finds a dark moment and wishes for the bright light of the stars. I fell in love with this picture book right away. This is the story of a boy who has to leave home by boat. There are no details about the boy's family, boy's home country, or boy's destination. The boy in the story has a boat, a book, a bottle, a blanket, and a teacup.
The story does not provide details about the boy's name or about his motive for leaving home. But, you do not need to know more than what the story tells you. When you open the first page of the book, you get trapped in poetry and stunningly beautiful artwork. I do not want to spoil the story for you, so I will stop my blah blah blah. BUT, I have to talk about the artwork in the book.
Most illustrations, in the book, look like abstract paintings. The artist, Matt Ottley, designed all the illustrations around cool and neutral colors—blue, green, light pink, and light violet. There are only two illustrations in the book that have warm colors—these two illustrations are at the end of the story. Usually warm colors are used to create excitement and they convey positive emotions such as optimism and joy. In nature warm colors represent changes. On the other hand, cool colors convey emotions such as nostalgia, healing, frustration, tranquility. I love how the artist used colors to convey emotions. I also love that in each illustration the boy and his boat are depicted as minuscule dots in the Universe, while the sea and the sky are depicted as gigantic creatures to symbolize that human beings are very small compared to the Universe!
This is a great book for all ages! However, it is cryptic, at times. Thus, before reading it to students, it would be great to prepare essential questions, a study guide, and a well-planned lesson.
It is a marvelous story full of poetry and art. AND a great book for someone who wants to know more about refugees and displaced people. BUT, it is also a book about all of us. Who does not feel minuscule, facing the Universe? Who does not feel insecure, facing daily life, with only a few things in the backpack? Thus…, tomorrow, when you start your daily adventure, make sure to add to your backpack a hint of hope, a dot of creativity, and a grain of optimism … and … this book!